Anyone who eats out regularly knows it – fast food (junk food) is ridiculously expensive. It's convenient and quick, and more often than not I've got a stomach ache afterwards. Perhaps one meal isn't a bank-breaker, but after a month of eating out more often I was stunned to see that the amount of money I'd spent on food had *doubled*.
The same goes for dog food – easy, convenient, quick and sometimes deceptively "inexpensive" dog food ends up being more costly. Not to mention far less healthy. And, just like human food, dogs and cats can become addicted to this junk food – which often leads to illnesses like obesity and diabetes. That means trips to the veterinarian, possibly very expensive prescription food (which is another blog post unto itself), and a dog or cat who is unhappy with the entire situation.
So what is "junk" pet food? Used to be it was easy to pick out the questionable stuff but these days the advertisers have gotten trickier. Today I'm going to compare two of the more common wet foods that pretend to be "healthy" and "good". Not only are they made with junk ingredients, but they are also far more expensive to feed.
At first glance, this food seems fairly reasonably priced – $9.97 for 6 10oz tubs. The food is made to resemble chopped beef and veggies and the first ingredient after water is actually beef! But let's break it down a little bit. After "beef" comes wheat gluten. Other offensive ingredients include meat by-products, artificial and natural flavors, soy flour, and added color. A single 10oz tub is enough to feed a 10lb dog, making the daily cost to feed about $1.68/day.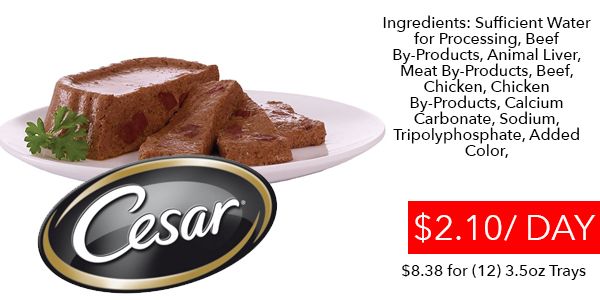 Cesar Classics with Beef
Geared towards very small dogs, Cesar's dog food is in a small foil tray and is a mere $.70 for 3.5oz. What a deal! Except a 10lb dog should be eating 3 little trays per day, which costs a whopping $2.10. For that price you should be getting great ingredients right? Wrong. The ingredients include Beef By-Products, Animal Liver, Meat By-Products, Chicken By-Products, and Added Color.
So how does this stack up against "expensive" dog foods?